Apple Health Connection
Download the Walkingspree mobile app from the App Store and log into your account.
1. Click on the tiny blue horizontal lines in the top left corner of the app dashboard
2. Select 'Connect Device'
3. Click on 'Connect' next to Apple Health
4. Then select 'Allow steps from all apps'
5. Data is automatically sent over to Walkingspree periodically throughout the day.

Make sure to keep the Walkingspree app running in the background of your iPhone or open the Walkingspree app at the end of the day to make sure your steps have been transferred from your Apple Health to Walkingspree.
Please Refer Images Below: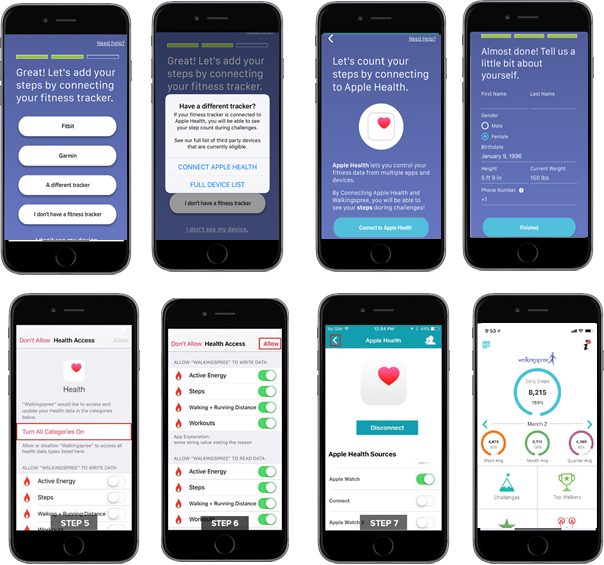 NOTE: Only step data gets transferred to Walkingspree. Therefore, activities that do not track actual steps will not transfer to Walkingspree from Apple Health.


iPhone 5 or older cannot track steps using Apple Health. It does not have the necessary processor to work as a pedometer.
If you have an iOS device older than an iPhone 5s, we recommend you visit our Online Store by logging into www.walkingspree.com to purchase a pedometer tracking device (Apple Watch).
If you need help, please do send in a chat or email us at support@walkingspree.com and we would be happy to help you out!